Our Board and Officers
Here are some of our board members at our meeting in November 2017. Left to right are Jacqui Taylor, Marian Dye, Tricia Basham, Maureen Wheeler, Lin Malcolm, Fiona Laden & Katie Ashwood.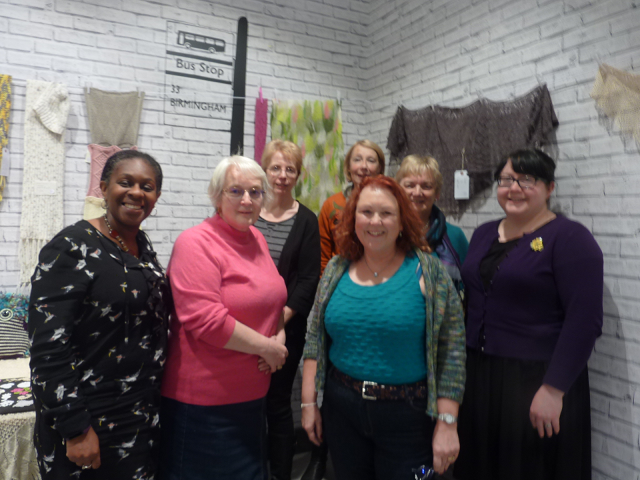 We were delighted to be able to hold our meeting in the John Lewis Community Hub at their New Street, Birmingham Branch, their support is much appreciated by the Guild. You can see some of the exhibits at the display of work organised by the Birmingham Branch. Huge thanks to Janet and all involved in such a stunning showcase of your skills.
The Board is elected by Guild members and we also co-opt board members during the year to fulfil specific roles as they arise.
Governance - Company secretarial - Post currently vacant until AGM but any queries please Email
Legal Issues - Gillian Oliver - Email
General Enquiries - Barbara Kolator - Email
Finance - Treasurer and membership secretary - Tricia Basham Email

Finance Assistant - assistant treasurer - Jane Hirst (co-opted) Email
News and events co-ordinator - Jacqui Taylor Email

Collections - Board link with the Collections Team - Maureen Wheeler Email

Learning resources - skills, training & education - Marian Dye - Email
Webcontent - Suggestions for new content for the website - Tricia Basham Email

Local Yarn Shop Liaison - Developing links with yarn shops in your area - Fiona Laden Email

Slipknot review for the Board - Laura Miller - Email
Social Media - Katie Ashwood (co-opted) Email
Post-holders - These are not directors. They are appointed by, and work with, the Board. Their roles and contact details are below:

Slipknot Editor - Lesley O'Connell Edwards Email
Marketing - Elspeth May Email

Publications Curator - Barbara Smith Email

Central Co-ordinator - Rita Taylor Email

Textile Archivist- Angharad Thomas Email