Debra at the Palace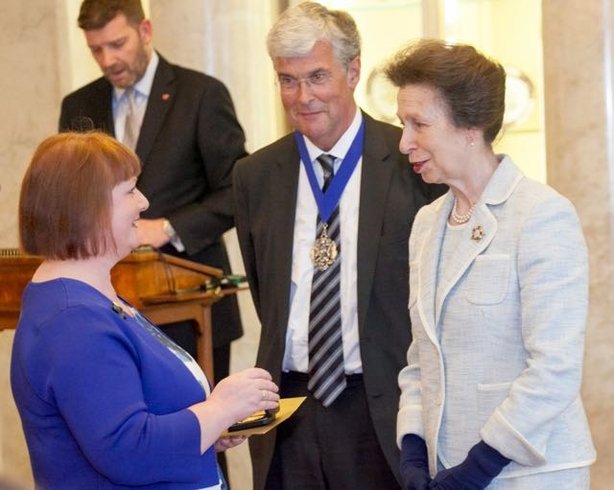 Debra goes to London for tea at The Palace!
Knitting & Crochet Guild member Debra Kobasa recently completed a City & Guilds Creative Studies course in hand knit design. Her work was highly creative and of exceptionally high standard and her tutor nominated her for a C&G Medal of Excellence.

These medals are rare and highly prized and Debra became the proud owner of one at a ceremony held at the Victoria & Albert Museum in London. The presentation was made by senior C&G External Verifier Margaret Walker, with C&G representatives, her tutor and fellow students looking on.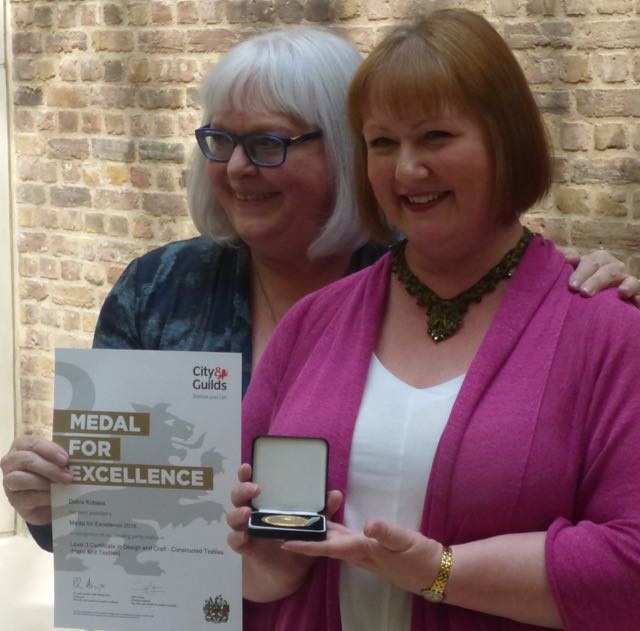 Proud tutor Loraine McClean of Knit Design Online said, 'Debra not only produced excellent work but had a great attitude to learning and was a real joy to teach'.

For many years Debra was an academic librarian but she always made things in her spare time, she says: 'Making things has always been an important part of my life – there is little to rival the satisfaction that can be gained from producing something beautiful with your own hands'.

Debra plans to run her own City & Guilds hand knit course, and help others to fulfill their creative potential, so do get in touch if you are interested: www.debrakobasa.com

Debra also received the annual Haberdashers' Livery Company 2016 prize for excellence, presented by HRH Princess Anne at Buckingham Palace and followed by afternoon tea. Another beautiful medal for the collection!

(Debra says) 'It was FABULOUS! The Palace was amazing and HRH Princess Anne was charming - relaxed, open and chatty. The whole experience was truly memorable'.

Please contact debra.kobasa@gmail.com for more information.