KCG 40th AGM & Convention, Radcliffe Conference Centre, Warwick University - 6 to 8 July 2018
The Guild's annual Convention weekend is the highlight of the Guild's year and this years event to mark our 40th Anniversary was no exception. Held at Radcliffe Conference Centre at the University of Warwick from 6th to 8th July 2018, members from as far afield as Edinburgh, Dorset, Gwynedd and North Norfolk gathered in the heat of an exceptional summer to take part in our Ruby celebrations.
Our Patrons supported the event with Sasha Kagan our keynote speaker after dinner on Friday evening and Debbie Abrahams leading one of our workshops on Saturday. Kaffe Fassett couldn't be with us but he donated a hand knitted wrap in Rowan's Kidsilk Haze raffled to raise funds for the Guild and Ruth Hockney was the lucky winner.
In addition to our normal weekend programme, we were delighted to welcome Brandon Mably who gave an inspiring talk on Thursday evening 5th July and a lead full day workshop on Friday 6th July hugely enjoyed by those participating.
Others braved the relentless sunshine to visit Emma at In The Wool Shed finding out about the processes she uses for dyeing her yarn. It was great to see Emma again as she had brought her yarn to our Convention in Birmingham in 2017.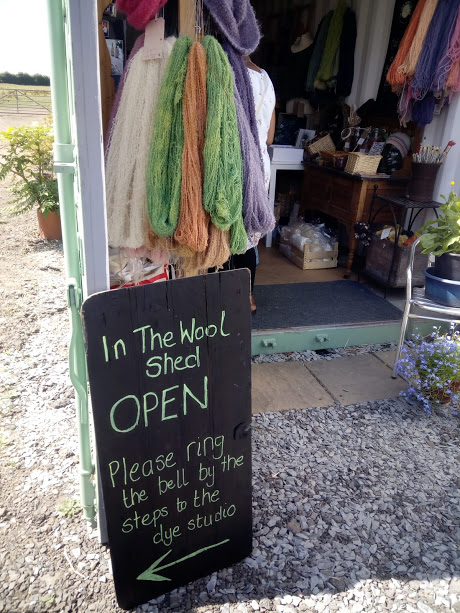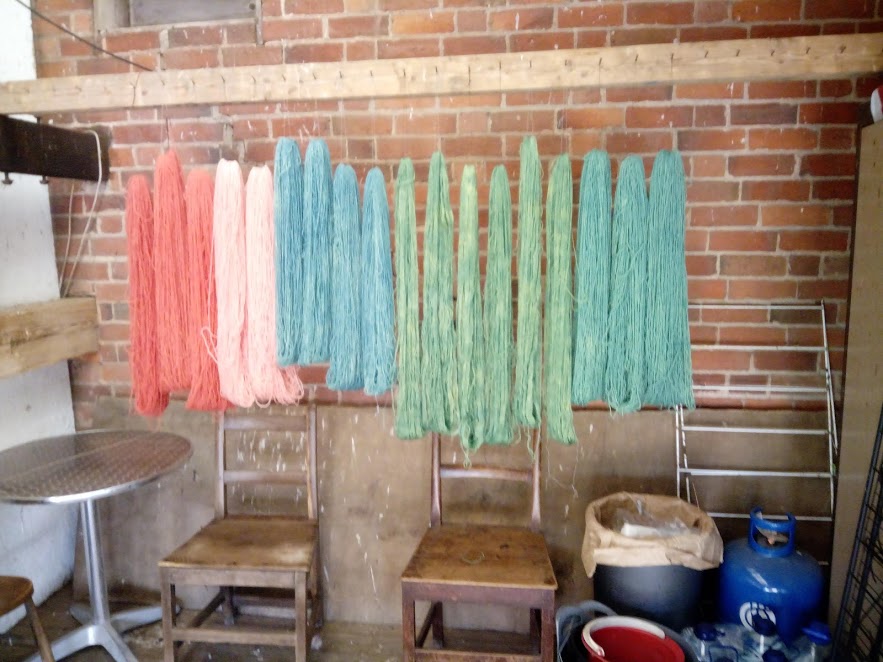 Following dinner on Friday our Patron Sasha Kagan told us about her life in knitting & crochet and we were delighted to see so many of her designs close up and get a preview of the stunning crochet shawl she created for Rowan Yarns 40th Anniversary.
A full day on Saturday started with a talk by life member Pauline Turner renowned for her International Diploma in Crochet; one of the founder members of the Guild and first editor of the newsletter that would become our journal Slipknot.
Our Annual General Meeting took care of the formal business of the convention and was a great opportunity to say thank you to the current board for all their hard work over the year.
After lunch Tricia Basham and Emma Vining shared some of the discoveries from their work on the Gladys Jeskins sampler and almost but not all of the 50 metre sampler was unravelled around the collected members to much acclaim. Guild members have access to the e-book of patterns inspired by single stitch patterns on the sampler - a true measure of the Guild's theme in 2018 - From Preservation to Inspiration.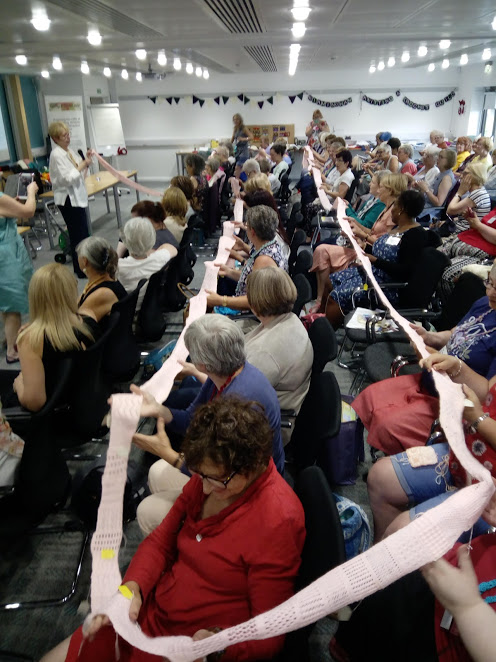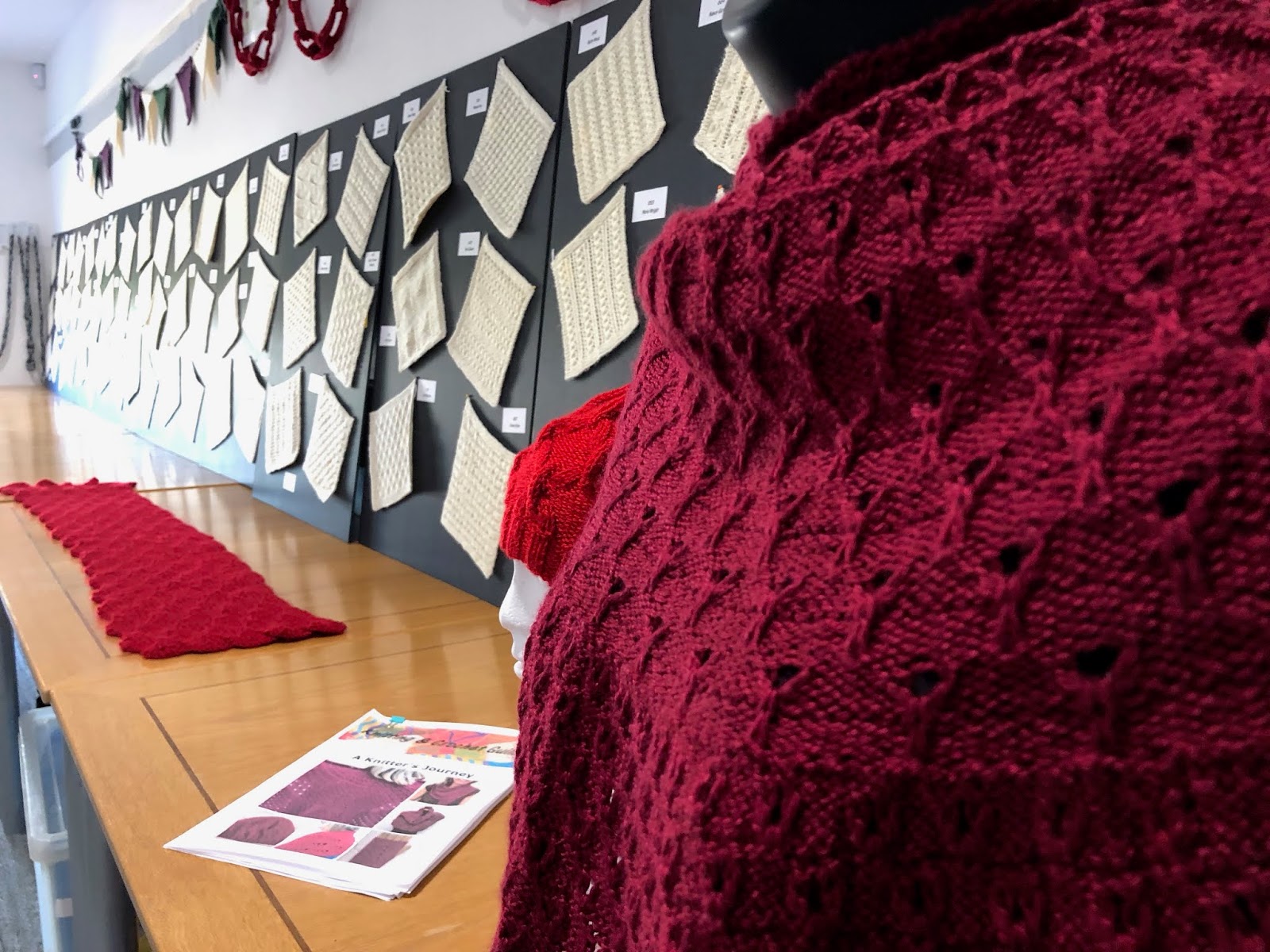 Once the sampler was rolled up again it was time for our afternoon workshops.
Crochet tubs with Lindy Zubairy
Different garter stitch squares and how to join them with Marian Dye
Finishing techniques with Debbie Abrahams
I-cord and it's use with Claire Griffel
Mixed media crochet with Pauline Turner
Surprise jacket "teddy" sized with Judy Jones
Swedish Twined knitting with Rita Taylor
Tunisian crochet with Kim Badcock
Dinner was followed by one of the highlights of the weekend, Show & Tell , led by compere Rachel Lemon. Many of our members had participated in our 40th Anniversary Challenge to create a garment inspired by designs from 1978, as well as bringing along some of their finished objects and WIPS to tell their story. Rounding off the evening was a chance to enjoy a slice of our celebration cake and entertainment from Francis Mallon got folks up and dancing.
Sunday kicked off with a presentation by Alison White from Arena Travel, showcasing their exciting knitting & crochet holidays. Marian Dye also updated us on the developing plans for a "knit & cruise" to Norway in 2019 revealing the news that she would be giving an on-board presentation about the Guild. Results from the photo competition were then announced, 18 members had brought along photos of themselves from 1978 and we had to match the members names with the photos, incredibly Barbara Smith managed to pinpoint 16 of them, congratulations.
Our Sunday morning workshops then got underway.
Estonian colourwork with Rachel Lemon
Fair Isle with Elspeth May
Filet crochet with Rebecca Mosley
Irish crochet with Wendy Irving
Join as you go crochet with Gillian Oliver
Lace knitting using charts with Katie Pearce
Hairpin crochet with Helen Jordan
Sampling the sampler (our 40th Anniversary project) with Emma Vining and Tricia Basham
Huge thanks to all our workshop leaders, our board, Birmingham branch members who made this event possible and all who attended who made this year the best Convention ever.
Photos courtesy of Emma Vining and Lindy Zubairy, and you can read more of Lindy's report included in Slipknot 160 September 2018 here