KCG Convention, Hallmark Hotel, Derby, 11 to 13 July 2014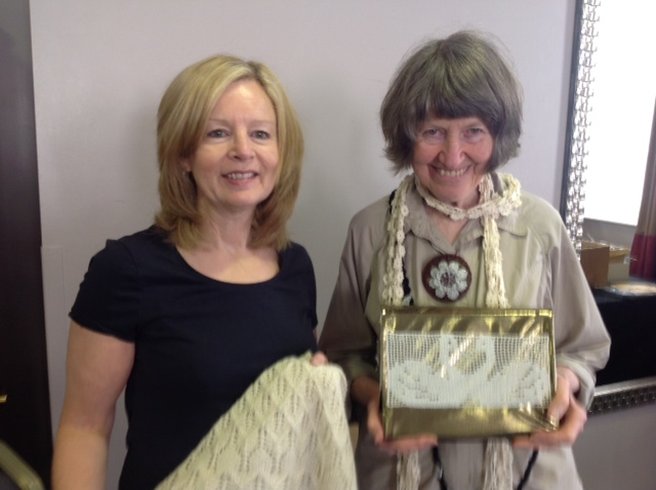 Fifty residential and six day delegates met at the Hallmark Hotel, Derby from 11-13th July 2014 for our annual convention and AGM. Organised by Jennifer Short and Tricia Basham, the weekend included fascinating talks from Maureen Wheeler and Barbara Smith on the Collection and knitting in WWI respectively. Workshops on various aspects of knitting and crochet were enthusiastically supported and delegates were further inspired by Betsan Corkhill's excellent presentation on her work at Stitchlinks which involves using knitting and crochet for therapeutic purposes. Rita Taylor gave us the benefit of her experience in lace techniques and there was a lively session led by Elspeth May on ways for members to get involved in the Guild.
Four of the workshop presenters – Sarah Alderson, Helen Jordan, Sally Magill and Rita Taylor – judged the "design a lace item" knitting and crochet completion. Gillian Oliver (left) won best knitted item for her beautiful triangular shawl and Sheila Metcalfe's fine filet crochet album cover won best crochet item. Prizes were presented to the winners and runners up (Elspeth May and Julia Blanchett). These had be kindly donated by Rita Taylor and Helen Jordan.