KCG Convention, Sheffield University, 1 to 3 July 2016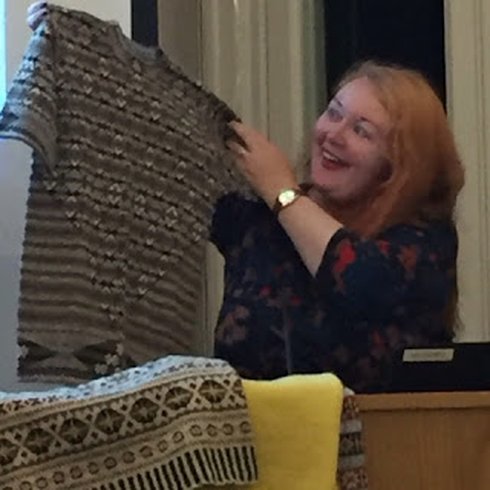 The Guild returned to Sheffield University for our AGM & Convention in 2016.
It was a wonderful chance to catch up with fellow members and be completely absorbed in knitting & crochet for a whole weekend.
In addition to the regular programme the team at Lee Mills hosted an Open Day and managed to accommodate a substantial number of us, splitting the party up into four groups with Angharad, Barbara, Julia and Maureen talking about various aspects of the Guild's collection.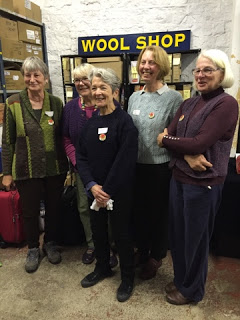 Convention proper got underway later that afternoon and we were delighted to welcome Susan Crawford as our keynote speaker following dinner in Halifax Hall. She entertained us with details about her Vintage Shetland Project and we were able to see at close hand some of the stunning finished garments and can't wait until the book is published.
Before the AGM business got underway on Saturday morning we heard from Nic Rudd from Yarns from the Plain who took us through her personal journey from full time teacher to indie yarn dyer.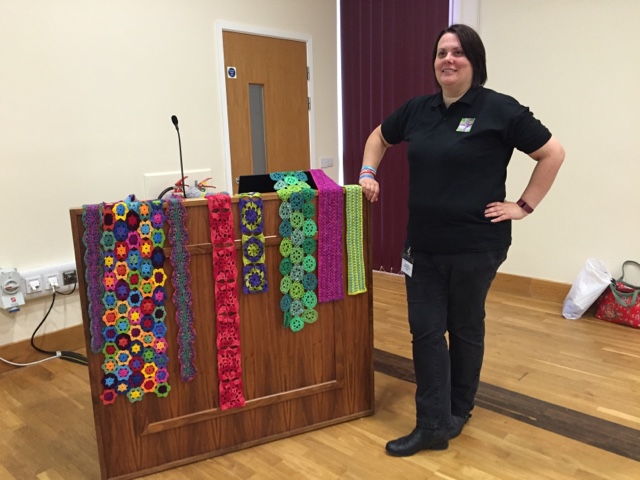 After our AGM (members can read the minutes of the meeting here) and lunch our first workshop sessions got underway with members choosing from 5 different topics, Two colour double knitting, Advanced Tunisian crochet, Mobius knitting, Crochet shawl design and interpreting Victorian knitting patterns.
Following dinner we gathered in the bar area for our regular "Show & Tell" session which gives us the opportunity to celebrate the achievements of our members and we're always delighted to see the range of skills and ideas that are on show.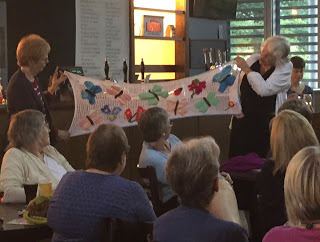 We kicked off Sunday morning with a talk from Zoe Fletcher, soon to be Dr Fletcher who took us through her Phd research on "Designing for Breed" promoting British sheep breeds and taking the perception of British wool from course and itchy to luxurious.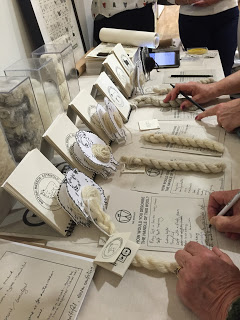 Then following another 5 workshop sessions, this time the selection was Mitred squares, Knitted shawl design, Double filet crochet, new approaches to Fair Isle knitting and broomstick crochet.
All too soon it was time for people to catch trains and head homewards but we can't wait for 2017 when we will be at the Ibis Hotel in Birimingham from 7th to 9th July 2017. Our Birmingham branch already have plans underway so make a note of the date in your diary.
Thanks to Emma for the photos and you can read more on her blog