Stitch yourself happy - Yoga and Yarn - 27-29 August 2021
Arena Travel Knitting & Crochet Holidays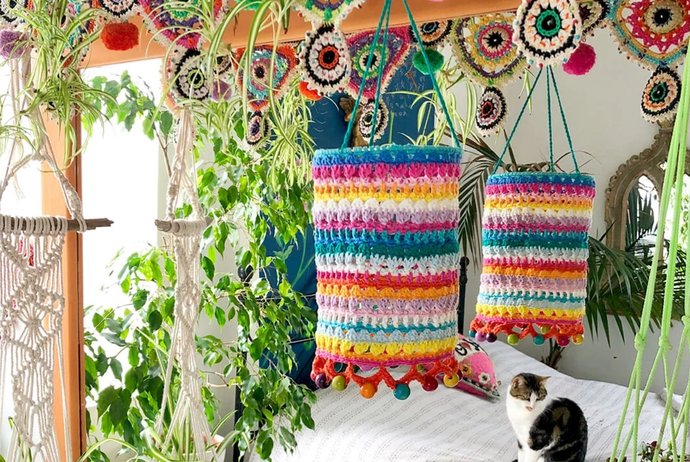 When: 27 - 29 August 2021

Where: Cotswolds

What: Stitch Yourself Happy – Yoga & Yarn (see the Arena website for more information)
Numerous studies have shown that crafting is just as beneficial for your personal wellbeing and mental health as Pilates, yoga and mindfulness are for both physical and mental health. These holidays will combine craft sessions with our most popular experts with mind & body sessions from experienced qualified tutors to leave you relaxed and refreshed and full of crafting inspiration!
Our second holiday in this collection combines Emma Leith's colourful crochet workshops with Molly Melhuish's refreshing refreshing and relaxing yoga sessions.

Yoga with Molly Melhuish

Molly teaches both flow yoga and yin yoga. Flow yoga is a series of postures linked together and yin yoga is a class where simple floor stretches are held for a few minutes each. Molly will adapt each session to the abilities of the group.

Crochet with Emma Leith
Arena travel offers £25 off holidays less that £1k for members of the Knitting & Crochet Guild.
These little flags are the very definition of happiness and are guaranteed to lift the spirits. This simple to follow pattern is perfect for any level of crocheter and will have you combining colours in a multitude of ways. Emma will show you how to embelish your flags with some simple embroidery as well as get you perfecting your crochet skills. Participants need to be confident with half treble crochet for this workshop.
This is the perfect project for those wishing to extend their crochet skills beyond the beginners granny square. This project introduces a variety of stitches and includes crocheting around a circular frame. Each lantern will be unique to you as you choose your own colour combinations from the carefully curated palette of Ricorumi cotton dk. You will leave with new skills and a pretty lantern that will brighten up the home and garden. Participants need to be confident with double crochet and treble crochet and this workshop is not suitable for complete beginners.