Slipknot
Journal of the Knitting & Crochet Guild
Slipknot is the quarterly journal by members for members, packed with information, events, articles, contacts and letters. It is a key benefit for members and each issue is eagerly awaited.
Do consider writing about something for Slipknot, contributions are welcome from all members. Think about what you have enjoyed in the journal, and things you would like to see but haven't appeared before. There are some detailed guidelines which you can download here. The Slipknot team are always happy to advise and review ideas.

Do contact the editor by email.

Copies of all issues of Slipknot are held at Britannia Mill - another reason to visit to see over 40 years of the Guild's own publication.

You can view a summary of the contents of some recent issues below.

Our copy deadline for the June 2021 issue is 31 March 2021.

Members can now access the current issue online by logging in to the members' area - we'd welcome your feedback on this facility so contact our membership secretary by email.

Features
A garden for life
Are you sitting comfortably?
Artful knitting
Book Reviews
Did you know?
Highland Threads
Knitted underwear
Patterning on a knitting machine
Shared aims
Sue Blacker, 1951–2021
Using wire on your knitting machine
Visual design approaches on machines
V-stitch mini shopping bag
Your memories of Patricia Roberts
The Guild
200 Club
Branch reports
Contributions to Slipknot
Directors and post-holders
From the Editor
Message from the Board
The Guild on social media
Un-Convention 2021
Features
A Knitted Christmas tree
A knitter's story
Alive and kicking: the sequel
A nymph in spring
Book Reviews
Buying a knitting machine
Designing in flow
Did you know?
Endless ends
In memory of Patricia Roberts
Knitting History Forum AGM and
Conference
Lockdown gansey squares
Lockdown projects
LYS in Berwick upon Tweed
Machine knitted woven felt
Notes from the edge
The demise of Denman
There's always something new to learn
Woven in Kirklees – nominations
The Guild
200 Club
Branch reports
Contributions to Slipknot
Directors and post-holders
From the Editor
Message from the Board
Speakers List
Volunteer for the Guild
What do you do with Slipknot?


Slipknot 169 - December 2020
Features
1920s patterns in the Collection
Alive and Kicking
A series of Un-Conventional yarns
A stitch with a story
Book reviews
Coronavirus craft groups
Did you know?
Fair Isle felting
Family threads
Introducing… Desiree Jeans
Knitting the Herring
Lockdown projects
Making a video for UnConvention 2020
Nordwand mittens
The art of gift-giving
Woven in Kirklees
The Guild
200 Club
Branch reports
Contributions to Slipknot
Directors and post-holders
Easyfundraising
From the Editor
Message from the Board
The Guild on the Net
Cover image is of seasonal table mats, knitted by Margaret Grinter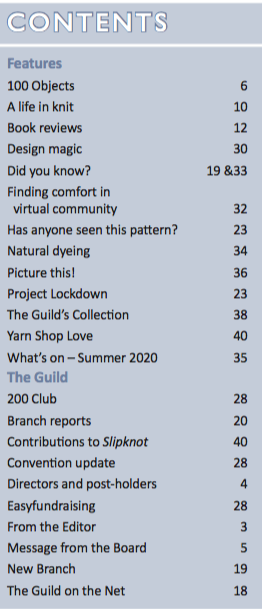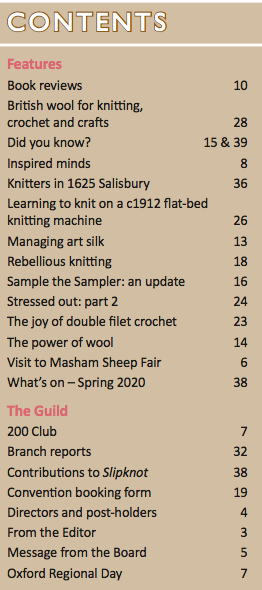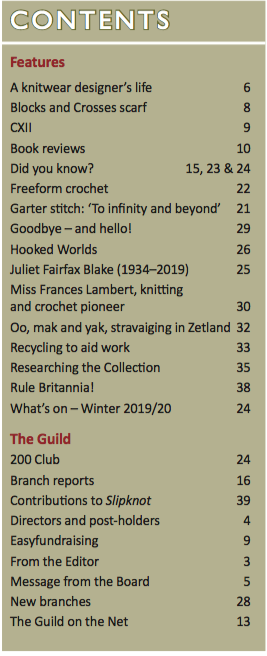 Slipknot 162 - March 2019
Contents
Features
A knitter on holiday in Tallinn
A Rainbow Jumper pattern
Book reviews
Did you know?
Grasping the (D) nettle
How to make a cute little bunny
How to make a Tunisian wave
Internationalisation of knitting
Japanese whimsy
Knitting in Sydney, Australia
More Traveller's Tales
The Brown Betty teapot
The most Popular Pattern ever published
What's on – Spring 2019
The Guild

200 Club 29
An introduction to new (co-opted)Board member Linda Curry
Branch reports
Contributions to Slipknot
Convention booking form
Directors and post-holders
Farewell
From the Editor
KCG Oxford Regional Day
Message from the Board
New (and old) Branches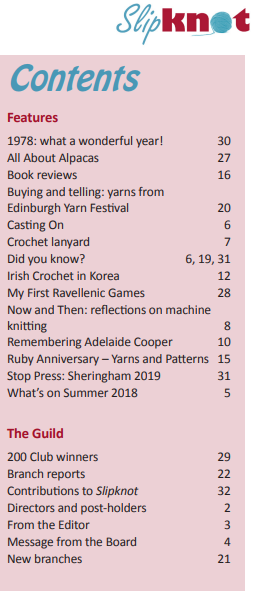 Slipknot 157 - December 2017 - Cover photo - Emma Vining's Diamond Kites sweater by kind permission of The Knitter Magazine, pub. Intermediate Media. See page 20.

Slipknot 156 - September 2017 - Cover photo - A Tam O' Shanter from our Sheffield Branch

Slipknot 155 - June 2017 - Cover photo - Yarn: Britsock Indian Summer by The Knitting Goddess available from Brityarn.co.uk. Image courtesy of The Knitting Goddess.

Slipknot 154 - March 2017 - Cover photo - Sally Magill's Little Birds Wall Hanging - see page 21

Slipknot 153 - December 2016 - Cover photo - Robin designed by Sue Stratford. The pattern is available in the members area of the Guild website. Sue's book "A bird in the hand" was published recently.

Slipknot 152 - September 2016 - Cover photo - one of the garments made by Chloe Woodman, University of South Wales, seen at Graduate Fashion Week 2016 - Photo courtesy of Emma Vining

Slipknot 151 - June 2016 - Cover photo - Liz Smedley's mohair mix with white cotton hairpin crochet & beads - See P22

Slipknot 150 - March 2016 - Cover picture - Flowers for Memories
Read Sheila Metcalfe's article on page 13.

Slipknot 149 December 2015 - cover photo - The final squares in the Yarn Story competition, courtesy of Juliet Bernard - see article on page 7
Contents
A Knitter's Journey - a 40th Anniversary Project
Anny Blatt and Stitchcraft
Appeal for bunting for Guild displays
Book reviews
Branch reports
Continental knitting workshop at Toft Alpaca, Warwickshire
Did you know?
Have you ever tried a "Knitting Retreat"?
In the Footsteps of Sheep
In the Loop 4
Issue 150
Knitted squares
Message from the Board
Mini Christmas stockings
Proper Woolly
Shetland Wool week the easy way
Successful sociable crochet project
The Guild 1891 lace sampler: pattern 36 - antlers and large eyelets
The Healthy Eating Rug
Wartime knitting
Yarn Stories competition
Slipknot 148 September 2015 - Cover photo - Sleeve detail from the Aberteifi cardigan - see Did you know? on page 18
Contents
2015 AGM report
£1 coin purse
Anny Blatt
A machine knitter's perspective
Bedfordshire Branch Regional Open Day
Book reviews
Branch reports
Can you help?
Celebrating Kaffe
Did you know?
Helping the trawlers
I Knit Fandango
Knitting event in the Wiltshire/Somerset/Dorset border
Looking for somewhere to donate your surplus yarn (and needles)?
Members' achievements
Message from the Board
Review of the 2015 Convention
Shetland visit
The National Federation of WIs/Kingston Design Knitwear project
Wedding preparations
Wraps per inch (or WPI) tools
Slipknot 147 June 2015 - Cover picture - Irish crochet bag from the Guild Collection, courtesy Emma Vining - see London branch report on page 26.
Contents
Branch reports
Crocheted friendship panel
Daisy card
Did you know?
Does anyone remember Enid Blyton's campaign for knitted squares
Guild 1891 Lace Sampler Pattern 5 - Little Flowers
Guild 1891 Lace Sampler Pattern 10 - Little Spinners
Guild competition 2015 - Afternoon Tea
Guild patterns on Ravelry
KHF/KCG visits to Clothworkers' Centre
Lee Mills Open Day
Members in print
Message from the Board
Mrs George Cupples
New branch in Bath
News from Slipknot
The Guild on Facebook
The Transitions Conference 26-27th November 2014
Too many books
Two Worcestershire Second World War knitting parties
Vicki Twigg and Twiggstitch
What colour is White?
Writing for Slipknot
Yarn Stories launches Guild-inspired competion
Slipknot 146 March 2015 - Cover picture - Betty's fuchsia motif, created and photographed by Emma Vining. See Page 22
Contents
A Guild outing
Advice to the Victorian yarn buyer
And Wendy Poole is setting up a new branch in Cornwall
Bedfordshire branch regional open day
Betty's fuchsia challenge
Book reviews
Branch reports
Centenary Stitches exhibition
Classifying yarn colours
Convention competition 2015
Did you know?
Greta - a 1930s Lacy Jumper
Introducing Hilary
Irish crochet
Lee Mills open days 2015
Message from the Board
Scottish members get connected
Shetland Wool Week
The Butterick Publishing Company
The Fife Craft Collaboration 2014
The fun of creating
The Guild on Facebook
Twenty go to Norfolk
Using spinners' shade cards
What does the average farmer get for his wool?
Slipknot 145 December 2014 - Cover picture - Crochet snowflake by Sally Magill, to reflect the season.
Contents
Book reviews
Branch reports
By any other name
Crochet sampling
Did you know?
Fibre East 26-27 July 2014
The Gansey Symposium at Sheringham Museum
A happy event?
KA knitting needles
Kaffe Fassett 50 years in colour exhibition at Aberdeen Art Gallery
Knitted Knockers UK
Knitters Circle News
Knitting at the Brighton Mini Maker Faire
Knitting weekend in Sheringham 9-11 January 2015
Letter to the Secretary
Message from the Board
"Oh GreyT Granny"!
Sampler pattern 58: Hanging cones
Sewing in threads
Shetland Sojourn
Twist again
A unique gem from the collection
Working with beads
Slipknot 144 September 2014 - Cover picture - Knitted cacti in the Guild collection, courtesy of Barbara Smith - see Evangeline McNicol's section in the article by the students who used the collection at Lee Mills on page 10.
Contents
AGM minutes
Book reviews
Branch reports
Catch them young
Convention weekend
Did you know?
Explorations in Scandinavian knitting
The Guild's gansey collection
Knitted quilts at The Old Post Office, Tintagel
Message from the Board
The Patons pattern archive
Scrapbooks
Students at Lee Mills
Victorian squares knitting workshop
Vintages patterns and modern challenges
Ways to donate to the Guild
A world of wool - the Expressions arts festival
Slipknot 143 June 2014 - Cover picture - Child's coat and hat knitted for the film "Tell us of them" from a patterns supplied by the Guild Collection.
Contents
Book reviews
Branch reports
The Coats archive of garments
De stash at the convention
Did you know?
From the Patons archive: 1965 Aran sweaters
Knitting for others
Knitting for the troops
Making the Scatness tunic
Message from the Board
The Misses Ryder of Richmond in Yorkshire
Shetland Wool Week 2013
A stitch garden
A tape measure jug?
Tell them of us
Tudor Merchant's Knitted Cap Workshop
Useful aids for easier crafting
Where do you see the Guild in 2020?
Woolly thoughts from Down Under
Slipknot 142 March 2014 - Cover picture - Fan and feather patterns created by members at a workshop with Huddersfield Branch
Contents
200 Club
A welcome home tablecloth
Bedfordshire branch regional open day
Book reviews
Branch reports
Convention competition - design a lace item
Copleys evening charmer
Cupolet
Did you know
Directors and post-holders of Knitting & Crochet Guild
Kathleen Kinder - Sampler Pattern 3 - Lacy Ogee
Kathleen Kinder - Sampler Pattern 38 - Eyes in the Forest
Message from the Board
Message from the Editor
Social media
Sprint before you can crawl
Thank you from Wendy
The KCG Collection update
Wanted Coloured knitting needles
Slipknot 141 December 2013 - Cover page - Jaeger 2oz Jumper and knitting pattern from the Guild collection.
Contents
200 Club
Alexandra Palace Set Up
Book Reviews
Crochet - Easy Mobius Scarf
Crochet Day - New Milton
Daily Telegraph Royal Baby Pattern Update
Did you know
Elenore Riego de la Branchardiere - myth and reality
Highland Crafters
Knitted 1891 Sampler patterns no. 20, Bricks and cables
Message from the editor
Mrs Ronaldsons Lace Charts 1 & 2
New Huddersfield Branch Report
North Knitters Branch Report
Pattern for a 2oz Jumper from the Guild collection
Poppies
Report on Lace Knitting Workshop
Shop Review - Be Inspired Fibres, Edinburgh
The Knitting and Stitching Show - Alexandra Palace
The Mary Moons of Hull
The Mystery of the Sea Boot Stocking
Vogue Knitting
Your help requested?
SlipKnot 140 September 2013 - Cover picture - Royal Baby's Fisherman's Sweater - Read Barbara Smith's Article on Page 15. The front of the pattern is reproduced with permission of the Daily Telegraph.
Contents
200 Club
Book Reviews
Branch Reports
Celebrating 30 Years - Pauline Turner Crochet around the world
African Hats
Did you know?
Helen Jordan's Hairpin Crochet Workshop at the AGM
How do you like your shawl?
Knitted Garden Scene
Lacy Scarf Pattern
Message From the board
Minutes of the AGM
Miss Ronaldson's Charts and Garter Stitch Lace
Multi Stranding
Pebble Crochet
Update RHS Tatton
Royal Baby's Fisherman's Sweater
The art of the Gansey
The Lady's World Fancy Work Book
Third time lucky
Victorian Lace Day Amendment
Wire Works
WWKIP Day: We have a winner
SlipKnot 139 June 2013 - Cover picture - Making a Shawl
Read Judith Morley's article on page 16.
Contents
200 Club
A testament to yooth
A Victorian lace workshop
Book Reviews
Branch Reports
Did you know?
Favourite makes
Fundraiser crochet poppy pattern
Hello from Wendy Poole - and thank you from Lesley
Knitted 1891 Sampler Patterns : no 26 Faggot Honeycomb
Letter to the Editor
Making a Shawl
Message from the board
Needle review - Hiya hiya short bamboo circulars
Rare Breeds - A Collection From Blacker Yarns
Results of Questionnaire to members in February 2013
Sonja Henie - Skating mittens
Stitchtopia
That Inaugural meeting in 1978
The Copley Family
The Sewing Box - Wool Shop
Wool House
The Notice for the AGM on 13 July 2013 was sent out with this copy of SlipKnot.
Slipknot 137 December 2012
Slipknot 137 - December 2012
Contents
200 Club
2013 AGM and Convention
Book reviews
Branch reports and changes to local coordinators
Can you help find missing 1930s Wendy's patterns
Cholera belts
Did you know?
In search of missing Shetland lace articles
Hand-Knitted Woollen Bathing Suits in the 1930s
Happy Christmas and a New Year's Resolution
In the loop 3 report
"Inspired to knit" competition
Knitting and Stitching Show - Alexandra Palace 2012
Letters
Message from the Board
Ruffled flower in crochet
So how many dpns DO you need to knit in the round?
Woolsack project
Yarn shops
Yorkshire Wool Week
Slipknot 136 - September 2012
Slipknot 136 - September 2012
Contents
200 Club 9 A beautiful lace
Book Reviews
Branch reports
Crochet – a captivation and an escape into creativity
Crocheted friendship bracelet
Did you know?
Financial accounts summaries
Hints for the home
Horseshoe lace scarf
How to get involved with your Guild
The Magic of machine knitting
Message from the Board
Minutes of the 34th Annual General Meeting of the Guild
Online membership
The Polish Star Stitch
Sanquhar gloves
Too many symbols?
Twilley's health vests
Woolsack report
Yarn shop

Slipknot 135 - June 2012
Slipknot 135 - June 2012
Contents
Amendment to Co-ordinator's list
Are you using the best needles for your project?
Book reviews
Branch reports
Collection update
Copley's advice to fashion knitters
Dent gloves in the Knitting and Crochet Guild collection
Did you know?
Elizabeth Forster, designer
Filet band
Knitting & Stitching Show 11-14 October 2012 at Alexandra Palace
Letter to the Editor
Message from the Board
Members can access some earlier editions of Slipknot online.