100. Mystery blanket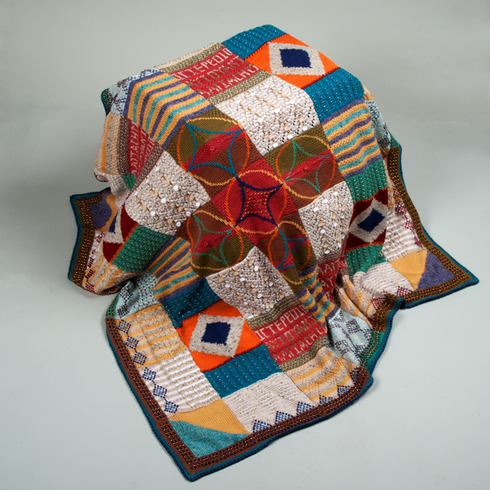 Patrons make an important input to the Knitting & Crochet Guild and the final item of our 'Collection in 100 objects project' is by our patron Debbie Abrahams. The design is Debbie's Mystery Blanket 2011: 'House of Aphrodite'. It was made by a Guild member and has been exhibited at various shows, before being donated to the Collection in 2012. A detail of it has formed the KCG logo for some years.
This is the fourth blanket design in Debbie's Mystery Blanket Club collection. The inspiration for it came from her visit to ancient Greek ruins in Cyprus whilst on a family holiday. The patterns for individual squares were released at regular intervals, over several months, until the theme of the whole blanket was revealed.
The 49 multicoloured knitted squares that make up this blanket are a series of tessellating patterns and textured stitch patterns. Each square measures approximately 15cms/6ins square, giving an overall measurement of about 110cms/43ins square, including a knitted and beaded border. The squares are knitted in cotton yarns from the Rowan collection including Glace Cotton and Revive. Yarns were chosen for their colour and texture, combining grainy tweedy yarns with opaque solid colours to create a weathered look, with beads for added texture. The skill embodied in both the design and execution of this blanket make it a fitting one hundredth object!