11. Irish Crochet Drawstring Bag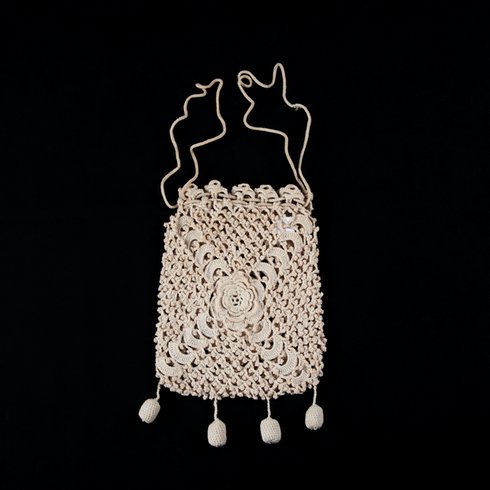 The Knitting & Crochet Guild Collection has many high quality Irish crochet items, one of which is this small evening bag. Measuring 18cms/7ins in length and 15cms/6ins in width it is made from fine crochet cotton using a small hook. In typical Irish crochet style, a series of motifs are joined together by a network of chains and Clones knots. The central six petal rose and four sets of treble bars radiating from the centre on both sides of the piece are worked over a cord of several strands of cotton thread making them three-dimensional. The bag is embellished with four pineapple shaped pendants along the lower edge. The drawstring fastening is threaded through an open picot edging. The bag is unlined and was designed to hold small personal items.
This piece is a typical example of the decorative and practical use of a range of Irish crochet techniques. Irish crochet items, made specifically for sale, were made from the 1850s onwards in Ireland. The small town of Clones became an important centre of the industry, lending its name to a particular type of crochet knot. Irish crochet garments and accessories became fashionable in the early twentieth century and, by 1904, Paris couturiers were using it in their collections. The exact age of this bag is unknown, although it is probably Edwardian.