26. The Book of Haps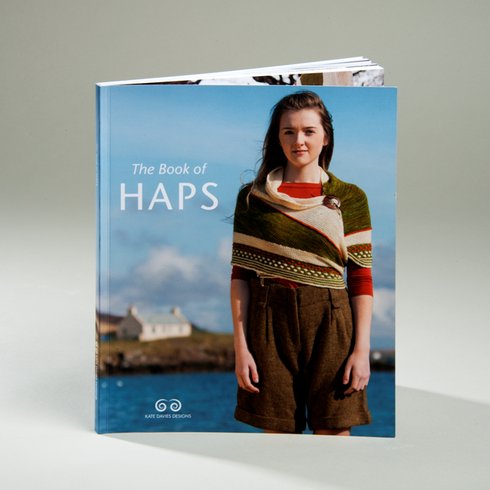 This paperback book by Kate Davies was published by Kate Davies Designs, UK, in 2016. It is 120 pages long and measures 26cms x 21cms/10.25ins x 8.25ins. The cover illustration is of a model wearing one of the haps from the book and the book is well illustrated throughout with other colour photos of patterns, black and white photos and charts. Hap is a Scottish dialect word for a simple shawl or wrap and the book is a useful reference source for their history. A chapter in the book, 'Knitting the Tree of Life', tells the story of a shawl knitted by Mrs. Hunter of Unst, which was bought by James Norbury of Patons & Baldwins, and used as the basis of a succession of pattern leaflets. Mrs. Hunter's original shawl is in the Knitting & Crochet Guild Collection.
The book also contains practical information on special techniques and the inspiration for the 13 hap patterns. Subtitled 'from Shetland to the world', the book also explores their global spread. The first part of the book looks to the past for inspiration, exploring the many different contexts in which haps were made and worn while the book's second half acts as a springboard to the future with 13 designers from around the world presenting their interpretations of the hap. The contemporary haps differ widely, but all have 'a simplicity and wearability'.