33. Beehive Knitting Booklets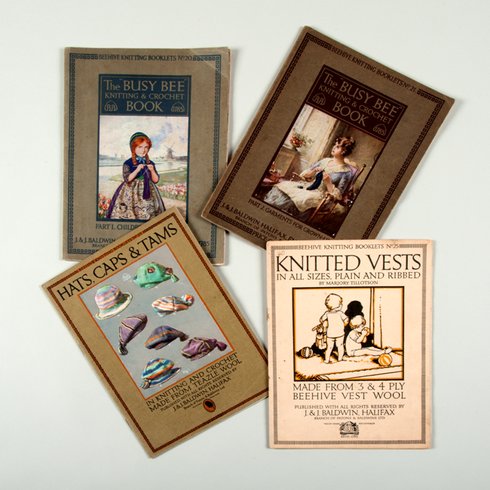 These booklets have card covers, and measure 18.5cms/7.25ins x 25cms/9.8ins. They are illustrated with black-and-white photographs and diagrams, and a few colour illustrations. Beehive booklets were issued by J. & J. Baldwin of Halifax to promote their yarns, from about 1912. The booklets shown here date from the early 1920s, by which time the company was a branch of Patons & Baldwins Ltd. The Busy Bee Knitting & Crochet Books (in two parts: Children's Garments and Garments for Grown-Ups) are comprehensive manuals, with about 50 patterns in each. The author of these, and the Knitted Vests booklet, was Marjory Tillotson, who designed the earliest Baldwin booklets and went on to become a well-known independent designer and author.
Copies of these patterns are available for Guild members please email for your copy.