42. Ball Winders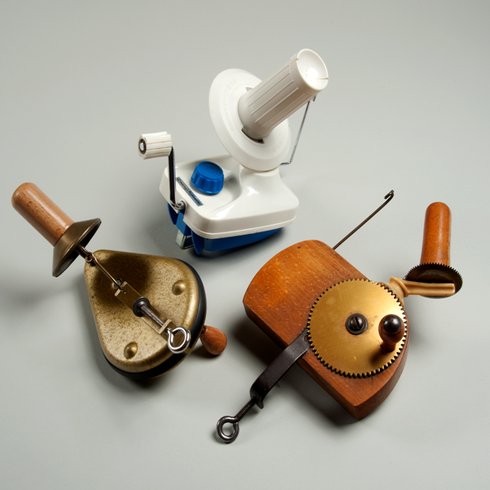 Despite differences in design, materials and age, all these winders use the same principle to make a ball of yarn, that is guiding the yarn onto the central reel to form the core of the ball as a handle turns the reel.
On the left of the picture is the 'Speedy' ball winder of metal and wood. A metal clamp fixes the winder to table so that the main piece is vertical when working and a wooden handle, which turns an internal spindle, is attached to a wooden fixed reel. Its height, when fixed, is 14cms/5.5ins. On the right of the picture is a winder made from wood, Bakelite and metal. It has a similar operating system to the 'Speedy ', having a fixed reel, but with additional metal gearing of 1:3. All models have a wire loop for feeding the yarn from the reel. In the centre of the picture is the 'Knitmaster' wool winder, made from metal and plastic and sold as an accessory for machine knitters. This has an adjustable metal clamp that fixes the winder to the table and a handle turns a spindle attached to a detachable plastic reel. Its height, when fixed to a surface, is 21cms/8.5ins. Although the Knitmaster wool winder in the Knitting & Crochet Guild Collection is from the 1970s, wool winders of similar design are still made. The 'Speedy' and 'Knitmaster' winders are in their original boxes with instruction leaflets, in the case of the Speedy the leaflet being in English, German and French. The other winder has a label, showing it was manufactured by RS European Sewing Machines Ltd, who were based in Stoke on Trent.
All the winders are in full working order.