43. Rayon Crocheted Tunic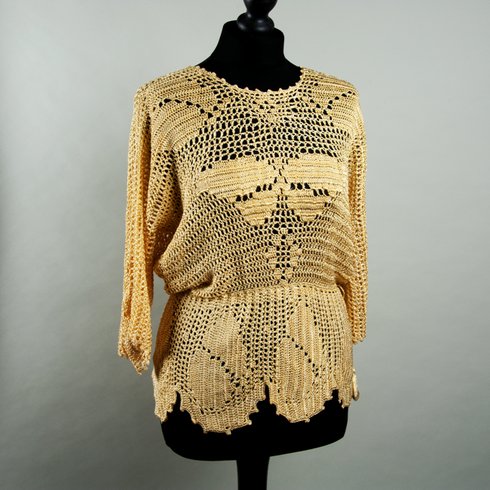 This crocheted tunic is one of several in the Knitting & Crochet Guild's Collection from the 1920s, made in pastel coloured rayon or 'Art Silk'. It is a particularly lovely example, in filet crochet with large butterfly motifs and a drawstring waist. At the time would have been known as a 'jumper'. 'Jumpers' like this were made in one piece, the work going from the bottom edge and over the shoulder to continue down the back of the garment, and sometimes including the sleeves, as in this case. This construction is found in other garments of that period, including wool sweaters. Patterns for garments similar to this are found in the Collection's publications from the 1920s but we have not, as yet, found the pattern for this one. We have no other provenance for this garment.
This pattern has now been found and copies are available for Guild members please email for yours.