50. Jester knitting pattern leaflets for women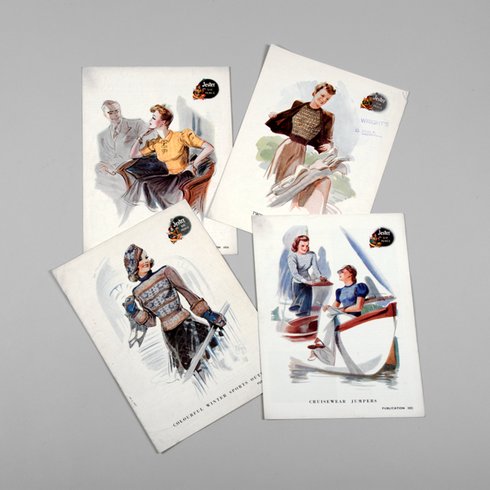 These colour leaflets, measuring 18.5cms/7.25ins x 25cms/9.7ins are uniform with the Jester children's leaflets, Object No. 5. The Jester Wool Company Ltd. of Leicester launched their brand of knitting wool in 1945. Pattern leaflets for women's garments, apparently numbered from 1001, appeared shortly afterwards. The leaflets have water-colour illustrations on the front with scenes showing women wearing the garments in an appropriate setting, and there are colour photos of the garments inside, to show exactly what they look like. Leaflet 1022 (for 'Cruisewear Jumpers') was advertised in 1950. No later advertisements have been found, so far, and it is likely that the company published fewer than 50 women's leaflets. Jester knitting wools do not seem to have had the success that the quality of the leaflets deserved.
Copies of these patterns are available for Guild members please email for your copy.