51. Crochet Waistcoat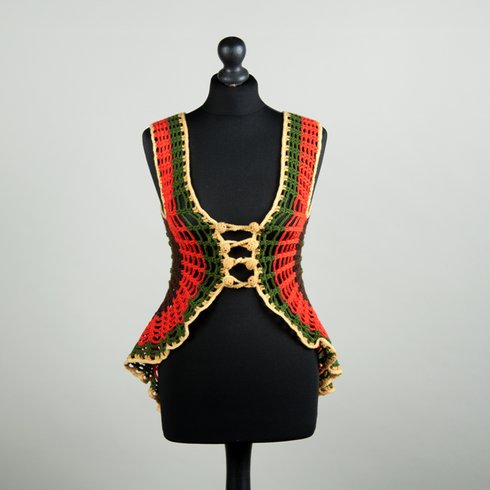 This eye-catching waistcoat is an adult woman size. It was made following Sirdar pattern 5167, published about 1977, which calls it a 'Crochet Web'. It is made in five colours of double knitting yarn. Our waistcoat appears to be in the same colours as one of the garments illustrated in the pattern leaflet: mustard yellow, dark green, orange-red, and a sunshine yellow. Construction starts at the centre of the back, and a large circle is made in the first three colours. The armholes and back shaping are incorporated into the following rounds. The waistcoat is fastened by crocheted buttons and loops.
It came into the Knitting & Crochet Guild Collection in 2003, given by the woman who had made it.