56. Patons & Baldwins late 1940s leaflets in colour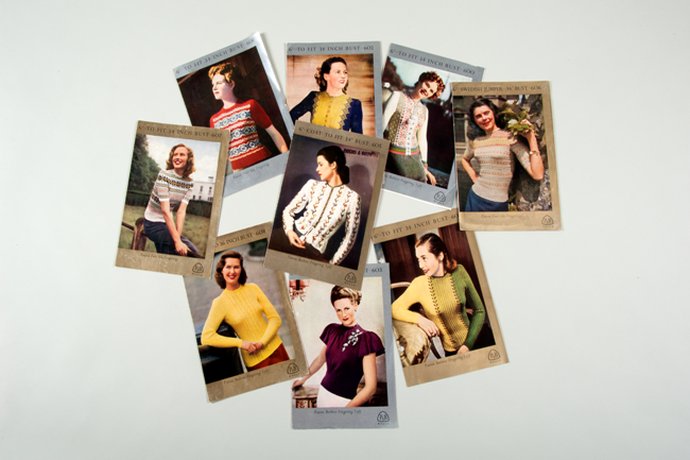 The Knitting & Crochet Guild Collection has many thousands of pattern leaflets, many of which are available to members, including this selection of classic vintage garments for women.
At the time these eye-catching leaflets were published in 1949, most knitting pattern leaflets were black and white. This was a new series at a higher price (6d) than usual, with a colour illustration on the front, with a gold or silver border. The company continued to publish leaflets of the same size (5.5ins/14cms x 8ins/20.5cms), but with black and white illustrations, at 4d. The colour leaflets were perhaps an experiment to test the market for more attractive leaflets at a 50% premium. As one of the leaflets explains: 'The full beauty of Fair Isles, and designs in several colours, or with special effects, can often be appreciated only when they are illustrated in colour.' There are designs in the series from several different traditions, including Fair Isles, a "Yugo-slav peasant coat" and a Swedish jumper.
Copies of these patterns are available for Guild members please email for your copy.