71. Clarice Cliff tea cosy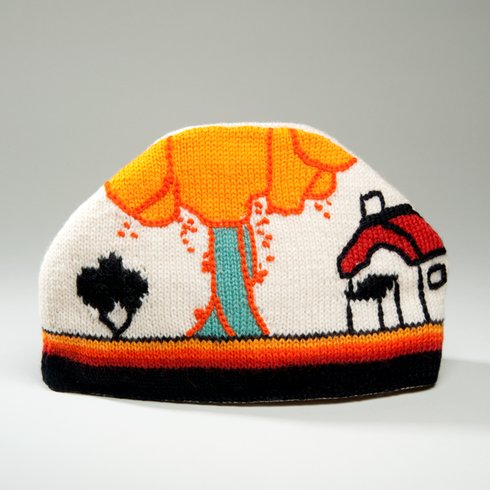 When tea was made in the pot using tea leaves, every household had a woolly tea cosy to keep the tea warm. The Knitting & Crochet Guild Collection has many examples of tea cosies, of which this is perhaps the most stylish.
Its design imitates that of Clarice Cliff (1899-1972) the English ceramic artist active from the 1920s to the 1960s. The tea cosy is similar in style to her 'Bizarre ' range. In 1932 the range was promoted at a September trade show at The Dorchester Hotel, London, with crocheted table mats and other items, designed to complement the motifs and patterns of the pottery.
The tea cosy is wool, padded, lined with fine cotton, and it is knitted in stocking stitch in two pieces sewn together. It features a knitted intarsia stylised tree, house and shrub outlined in chain stitch on a cream background. The tree is decorated with French knots representing leaves. The lower edge has a striped border in the featured colours of black, orange and gold. The back of the tea cosy is knitted in cream stocking stitch. It measures 35cms/14ins in length and 22cms/8.5ins in height.