86. Hand knitted coat by Kaffe Fassett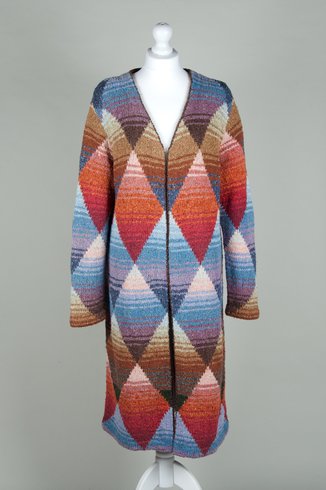 Kaffe Fassett is a long standing patron of the Knitting & Crochet Guild and an extremely well known textile designer. The Knitting & Crochet Guild Collection has a good selection of Kaffe's garments, some of which were donated by him when he became a patron.
This garment is made from a design by Kaffe Fassett and is believed to be a sample garment from Rowan Yarns. The pattern is 'Shaded Diamonds' using nineteen different shades of Rowan Yarns Summer Tweed, creating subtle changes of tone and optical effects. Kaffe Fassett is a world-renowned knitter, needlepoint and textile designer who has found inspiration in things as diverse as simple geometric shapes and ornate Spanish damask. This coat is typical of his unique ability to use colour for dramatic impact. It was featured in the Rowan Magazine Number 35, published in 2004.