90. Rayon short-sleeved jumper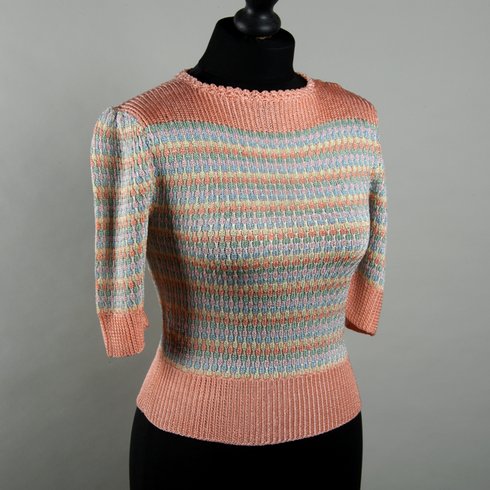 This adult woman size jumper is knitted in five pastel colours of rayon, in a slip stitch pattern, with welts and yoke in single rib, in one colour. There is a crochet edging around the neck, and it is buttoned on the left shoulder. It was made following Lister leaflet 915, price 4d, published in the 1940s. The leaflet specifies 3-ply wool, and some of the changes the knitter made may be due to using rayon instead; the slipped stitches are twisted, perhaps to avoid the rayon splitting and looking messy. The crochet edging added around the neck may also be due to using rayon rather than wool – a cast-off edge in rayon might rub uncomfortably against the neck.
Copies of this pattern are available for Guild members please email for your copy.