94. Sanquhar gloves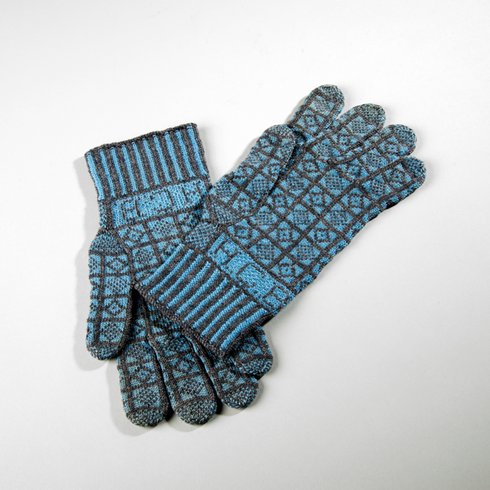 These Sanquhar pattern gloves are hand knitted in fine wool in blue and grey. The gloves were knitted for the donor's mother by her sister as a gift. They fit an adult hand, and in the Sanquhar tradition, they have the initials of the person they were knitted for around the cuff, HCB. Highly patterned knitted gloves have been made in the Scottish town of Sanquhar for over 100 years, although their exact history is unknown.
There are several Sanquhar patterns, the most common of which is this one, the Duke, after the Duke of Queensberry and Buccleuch, the local landowner, who supported the glove knitters in the past. The patterns have been published and are also in the Knitting & Crochet Guild Collection.
Normally our patterns are available only for Guild members but for these gloves it's available for everyone, so please email for your copy.