97. Louisa Harding waistcoat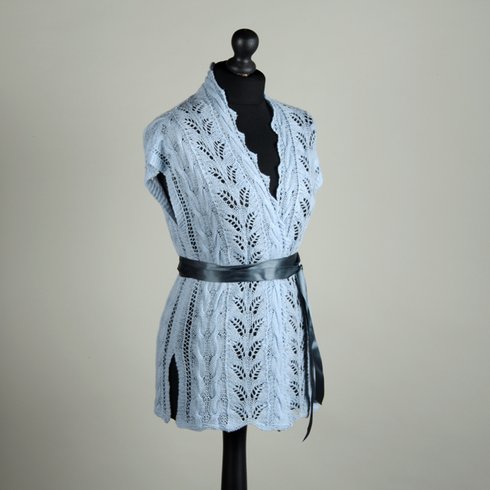 Designed in 2016, this sleeveless, edge-to-edge waistcoat is hand knitted in pale blue cashmere. It has an all-over pattern of leaf lace stitch panels alternating with cables. Picots in garter stitch edge the neck and fronts.
It is knitted in "Yarntelier" Cashmere Lace, shade 102 'Air'. This is an exclusive yarn developed by Louisa Harding, collaborating with local spinners and dyers, and drawing on the rich heritage and expertise of the woollen industry in Yorkshire.
Louisa became a Patron of the Knitting & Crochet Guild in 2019 when she donated this garment to the Collection. She has close connections with the Collection volunteers, living and working locally. Louisa is eager to "spread the word" about the Collection and is currently in discussion with the team how best to do this.