98. Clark's Anchor Fil à Dentelles yarn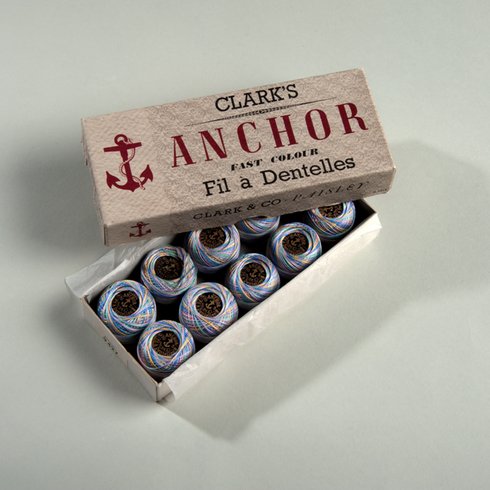 This box of 10 balls of cotton thread, each 5gms, was produced in Paisley, Scotland, probably in the 1970s or 1980s. The thread is variegated in pastel shades (blue, pink, yellow, green, mauve). It could be used to crochet household and clothing items such as dressing table sets, collars and gloves, and could also be used in knitting, bobbin lace making and tatting.
The Clark Thread Company originated in Paisley in the 18th century, and the Anchor brand was adopted in 1866. In 1896, the company joined forces with Coats (operating as J & P Coats) to become the largest thread producer in the world; the companies finally merged in 1952. The last thread mill in Paisley closed in the 1990s. The Anchor brand is now part of the MEZ Crafts company, and Anchor brand threads are still manufactured by MEZ Crafts, in Hungary.