99. A selection of knitting & crochet books from the 1840s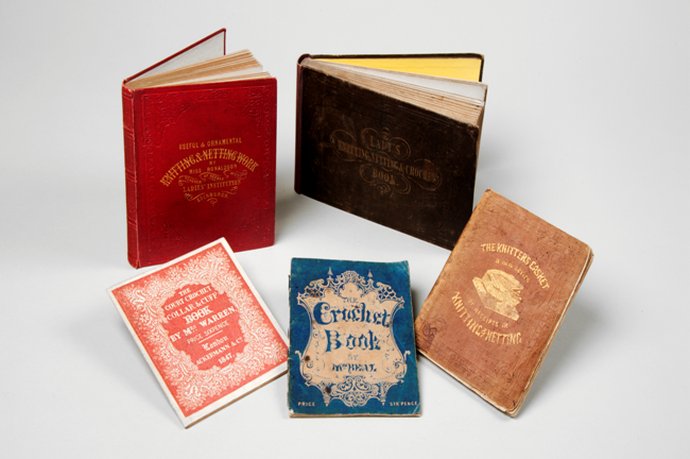 The Knitting & Crochet Guild Collection library has a good representation of some of the earliest books in knitting and crochet published in Britain, of which these are a selection. Knitting became a fashionable pastime for ladies in Britain in the 1830s, when crochet also began to become popular. Manuals on knitting and crochet, aimed at these ladies, began to appear in the late 1830s, and many were published in the 1840s.
The largest book shown is The Lady's Knitting, Netting & Crochet book, by Mrs Gaugain, published in 1840. It measures 6.75 ins/17cms x 4.25 ins /10.5cms, and has 255 pages. It cost 5s. 6d. (27½p) which would be worth roughly £27 today. The other hardback book shown is Useful & Ornamental Knitting & Netting Work by Mrs Ronaldson, published in 1847 with 176 pages. The Knitter's Casket, by Mrs Hope, is soft-bound, and the other two are short booklets with card covers, priced 6d (2½p), both published in 1847.
The manuals give 'receipts' for both garments and decorative household items. The garments are mostly what we would now call accessories (shawls, scarves, socks, etc.). The household items include antimacassars, cushions and doileys. However, the books have few illustrations, so that anyone following a receipt might not have any idea what the result should look like.