Raglan Sizing
Blocks for unisex raglan sizing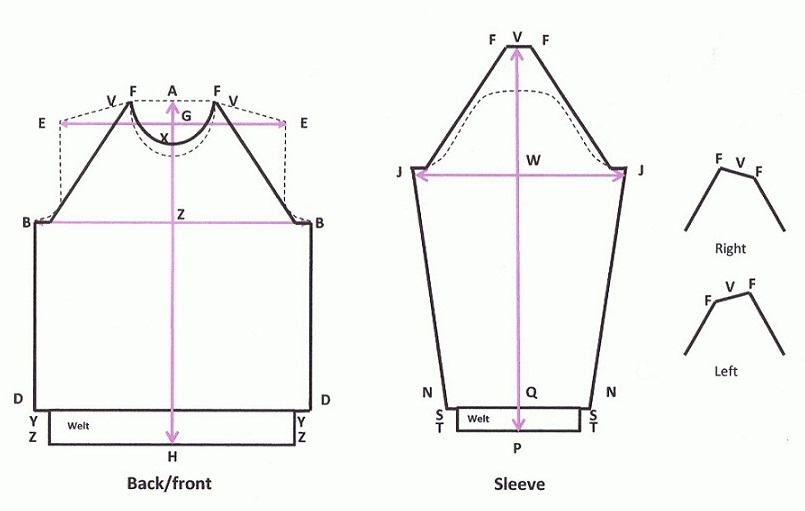 Sizing
The tables below give a guide to sizes for adults and children for a close-fitting raglan. For a looser fit adjust the armhole depth to equal a quarter of the total chest/bust plus ease measurement.
For an accurate individual fit it is important to take exact measurements for the points shown and use those to calculate the rows and stitches.
Note that the armhole depth is measured vertically from the line FAF down to the line BZB. The depth is not the diagonal line FB.
For an explanation of the optional top sleeve shaping (shown on the far right of the diagram) see the section on raglan garments.
Adults' raglans in cms - Back/front
| | | | | | | | |
| --- | --- | --- | --- | --- | --- | --- | --- |
| Chest total | BB | 101.5 | 106.5 | 112.0 | 117.0 | 122.0 | 127.0 |
| Chest plus ease | | 106.5 | 112.0 | 117.0 | 122.0 | 127.0 | 132.0 |
| Back length | AH | 67.0 | 71.0 | 73.0 | 74.0 | 75.0 | 76.0 |
| Armhole depth | AZ | 26.5 | 28.0 | 29.0 | 30.5 | 32.0 | 33.0 |
| Armhole cutaway | at B | 1.8 | 2.0 | 2.0 | 3.0 | 3.0 | 3.0 |
| Back neck | FAF | 14.0 | 15.0 | 16.0 | 17.0 | 17.0 | 17.0 |
| Depth of front neck | AX | 9.0 | 9.0 | 9.0 | 9.0 | 9.0 | 9.0 |
| Side seam | BD | 35.5 | 38.0 | 39.0 | 38.5 | 38.0 | 38.0 |
| Welt | YZ | 5.0 | 5.0 | 5.0 | 5.0 | 5.0 | 5.0 |
Adults' raglans in cms - sleeve
| | | | | | | | |
| --- | --- | --- | --- | --- | --- | --- | --- |
| Length | VP | 76.0 | 79.0 | 80.0 | 80.0 | 81.0 | 83.0 |
| Sleeve top | FVF | 5.5 | 5.5 | 6.0 | 6.0 | 6.0 | 7.0 |
| Depth of raglan | VW | 26.5 | 28.0 | 29.0 | 30.5 | 32.0 | 33.0 |
| Width of upper arm plus ease | JJ | 44.0 | 45.0 | 45.5 | 49.0 | 53.0 | 54.0 |
| Armhole cutaway | at J | 1.8 | 2.0 | 2.0 | 3.0 | 3.0 | 3.0 |
| Wrist | NN | 23.5 | 24.0 | 25.0 | 25.0 | 26.0 | 28.0 |
| Welt | ST | 5.0 | 5.0 | 5.0 | 5.0 | 5.0 | 5.0 |
Childrens' raglans in cms - Back/front
| | | | | | | | |
| --- | --- | --- | --- | --- | --- | --- | --- |
| Chest total | BB | 71.0 | 76.0 | 81.5 | 86.5 | 91.5 | 96.5 |
| Chest plus ease | | 76.0 | 81.5 | 86.5 | 91.5 | 96.5 | 101.5 |
| Back length | AH | 52.0 | 54.5 | 59.5 | 60.0 | 62.0 | 65.0 |
| Armhole depth | AZ | 19.0 | 20.0 | 21.5 | 23.0 | 24.0 | 25.0 |
| Armhole cutaway | at B | 1.5 | 1.5 | 1.5 | 1.5 | 1.75 | 1.75 |
| Back neck | FAF | 10.0 | 11.0 | 11.0 | 13.0 | 13.0 | 14.0 |
| Depth of front neck | AX | 7.5 | 7.5 | 7.5 | 7.5 | 8.0 | 8.0 |
| Side seam | BD | 28.0 | 29.5 | 33.0 | 32.0 | 33.0 | 35.0 |
| Welt | YZ | 5.0 | 5.0 | 5.0 | 5.0 | 5.0 | 5.0 |
Childrens' raglans in cms - sleeve
| | | | | | | | |
| --- | --- | --- | --- | --- | --- | --- | --- |
| Length | VP | 57.0 | 63.0 | 65.0 | 70.0 | 72.0 | 74.0 |
| Sleeve top | FVF | 4.75 | 5.0 | 5.0 | 5.0 | 5.0 | 5.0 |
| Depth of raglan | VW | 19.0 | 20.0 | 21.5 | 23.0 | 24.0 | 25.0 |
| Width of upper arm plus ease | JJ | 36.0 | 38.0 | 39.0 | 41.0 | 42.0 | 43.0 |
| Armhole cutaway | at J | 1.5 | 1.5 | 1.5 | 1.5 | 1.75 | 1.75 |
| Wrist | NN | 20.0 | 20.0 | 21.0 | 22.0 | 22.0 | 23.0 |
| Welt | ST | 5.0 | 5.0 | 5.0 | 5.0 | 5.0 | 5.0 |
Young children and babies' raglans in cms - Back/front
| | | | | | | | |
| --- | --- | --- | --- | --- | --- | --- | --- |
| Chest total | BB | 41.0 | 46.0 | 52.0 | 56.0 | 61.0 | 66.0 |
| Chest plus ease | | 46.0 | 52.0 | 56.0 | 61.0 | 66.0 | 71.0 |
| Back length | AH | 25.5 | 28.0 | 30.5 | 43.0 | 46.0 | 48.0 |
| Armhole depth | AZ | 11.0 | 12.5 | 14.0 | 15.0 | 16.5 | 18.0 |
| Armhole cutaway | at B | 0.8 | 0.8 | 0.8 | 1.25 | 1.25 | 1.5 |
| Back neck | FAF | 8.0 | 9.0 | 9.0 | 9.0 | 9.5 | 10.5 |
| Depth of front neck | AX | 6.0 | 6.0 | 6.0 | 7.0 | 7.0 | 7.0 |
| Side seam | BD | 10.5 | 11.5 | 12.5 | 23.0 | 24.5 | 25.0 |
| Welt | YZ | 4.0 | 4.0 | 4.0 | 5.0 | 5.0 | 5.0 |
Young children and babies' raglans in cms - sleeve
| | | | | | | | |
| --- | --- | --- | --- | --- | --- | --- | --- |
| Length | VP | 24.5 | 26.5 | 29.0 | 43.0 | 48.5 | 53.5 |
| Sleeve top | FVF | 3.5 | 3.5 | 3.5 | 4.5 | 4.5 | 4.75 |
| Depth of raglan | VW | 11.0 | 12.5 | 14.0 | 15.0 | 16.5 | 18.0 |
| Width of upper arm plus ease | JJ | 17.0 | 19.0 | 21.5 | 25.0 | 28.0 | 31.0 |
| Armhole cutaway | at J | 0.8 | 0.8 | 0.8 | 1.25 | 1.25 | 1.25 |
| Wrist | NN | 11.0 | 12.5 | 14.0 | 18.0 | 18.0 | 19.0 |
| Welt | ST | 4.0 | 4.0 | 4.0 | 5.0 | 5.0 | 5.0 |