Free Patterns
Following the merger of the Guild of Machine Knitters with our Guild Jane and Lidia have kindly agreed that these free patterns can be freely available on our website.
Lidia teaching machine knitting and you can see more about her current Monday and Thursday sessions here
Lidia Higson's - Heart Bag Pattern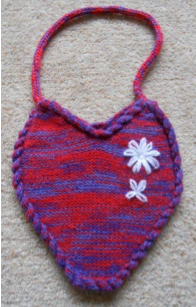 Jane's website is a huge resource for all things machine knitting so do check out the pages. A real machine knitter's treasure chest!
Jane Harrisson's - Bunting Pattern