Slipknot is the quarterly journal by members for members, packed with information, events, articles, contacts and letters. It is a key benefit for members and each issue is eagerly awaited.
Latest edition of Slipknot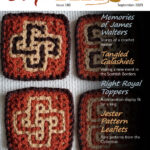 Memories of James Walters, Tangled Galashiels, Right Royal Toppers, Jester Pattern Leaflets ...

Contributing to Slipknot
Do consider writing about something for Slipknot, contributions are welcome from all members. Think about what you have enjoyed in the journal, and things you would like to see but haven't appeared before. There are some detailed guidelines which you can download here. The Slipknot team are always happy to advise and review ideas.
Do contact the editor using our contact page.
Deadlines for Slipknot
| | |
| --- | --- |
| Copy deadline | Issue date |
| 31 December | March |
| 31 March | June |
| 30 June | September |
| 30 September | December |
Table updated April 2023
See what has been in past issues of Slipknot
Copies of all issues of Slipknot are held at Britannia Mill – another reason to visit to see over 40 years of the Guild's own publication.
Many past issues of Slipknot are available for members download. We are working on scanning copies for which we do not have digital copies. Most issues since March 2003 are available, except for those from 2004 to 2006, and from March 2009 and March 2011.
---