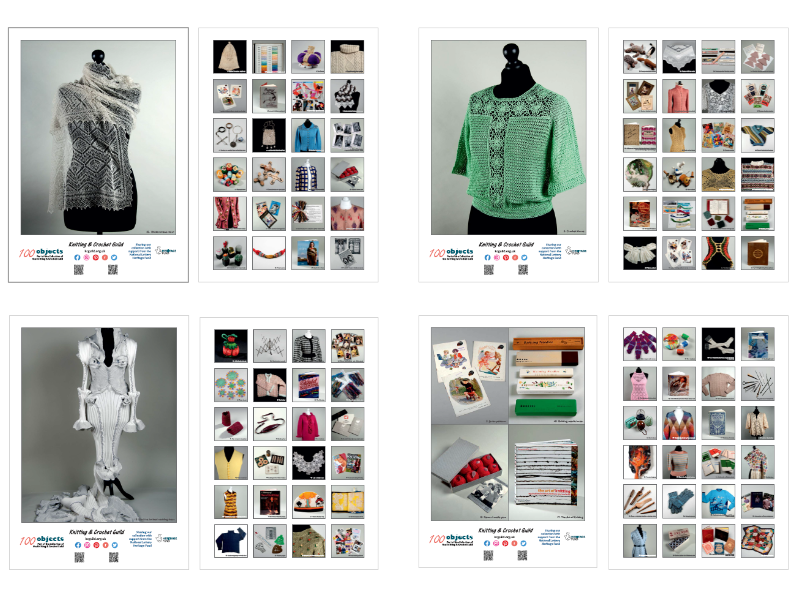 You can download copies of the posters of the 100 objects posters: Poster 1 (Shawl), Poster 2 (Crochet top), Poster 3 (Wedding dress), Poster 4 (Tools).
The project
May 2019 marked the start of an exciting project funded by a grant from the National Lottery Heritage Fund. The project, officially titled "Digitisation of the Knitting & Crochet Guild Collection highlights and the creation of a digital resource" shows a selection of the collection online so that it can be accessed anywhere, anytime, through electronic media, reaching a wider audience!

Made possible thanks to National Lottery players, the grant of £10,000 enabled the Knitting & Crochet Guild (KCG) Collection to be more accessible for crafters across the country! The team compiled 100 objects to show a small portion of the wonderful collection and one item per day was released through our news page and social media from 22 January to 30 April 2020.
We hope this view into the collection can be of interest to many people…
• Are you a knitter or crocheter? We have lots of wonderful items and techniques for you to explore!
• Are you a textile designer or student? There is lots of inspiration to be gained from these objects!
• Are you a historian or researcher? Many of these objects have important textile heritage or social history relevance!
The 100 objects show the wide breadth of the collection including knitting, machine knitting, crochet, craft tools, patterns, books, yarns, and art!! Have you been following the project on social media? We received some wonderful stories about the objects! And we would love to hear more – if you have been inspired by one of the 100 objects, please tell us about it by using our Collections contact form.
Take a video-look at some of our Collection
We have featured some of the 100 Objects in a series of videos: Patrons, Preservation, Like it or Loathe it, Volunteers, Books, Hand knitting, Crochet, Machine knitting, Tools, Art.
Explore the 100 objects
Explore the 100 objects from the project using the "Exhibit" in our online catalogue – select the image to go to the catalogue.