Machine Knitting
Getting Started
For those new to machine knitting, you can read Jane Harrisson's useful machine knitting primer - how to choose a machine and what they can and can't do in the "Basics of Machine Knitting" article below. You can find out more about Jane from her website and blog
For more about knitting machines click here, and for a detailed step by step guide to buying a knitting machine and what to look for in pre and post 1960s machines you can download Liz Holness's article here

The Basics of Machine Knitting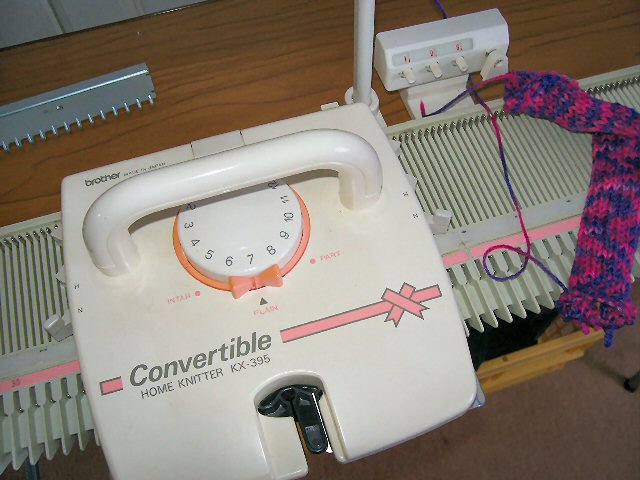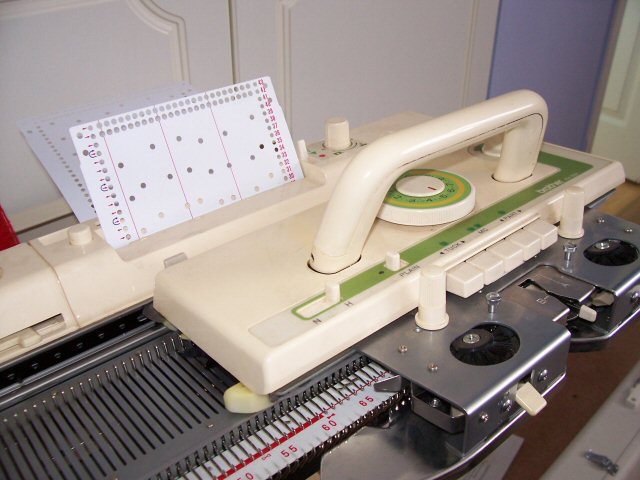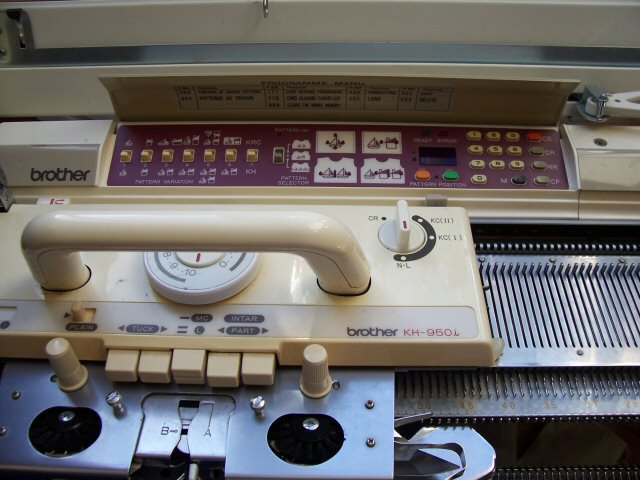 Yarns
Firstly, you need to decide what thickness of yarn you want to knit with the most often. 99% of machines* are a single gauge:
3.6mm is called "fine gauge" and it knits laceweight up to fingering/4ply
4.5-5mm is called "standard gauge", and can knit from light fingering up fine/sport weight/DK yarn
6-7mm is called "mid gauge", and can knit fine/sport weight up to medium/worsted/aran yarn
8-9mm is called "bulky" or "chunky" gauge and knits light/DK yarn up to bulky weight yarn
The gauge is determined by measuring the pitch of the needles. There is overlap with the thickness of the yarn and the different machine gauges. Knitting in the middle range of the machine (tension 5-6) is the most successful. Knitting with the wrong yarn/wrong gauge can produce either holey knitting or stiff knitting. It's sometimes possible to knit with a slightly thicker yarn using every other needle, but then your potential width is halved, so it's not ideal. If the yarn won't fit into the needles (actually latch hooks), then it's not going to knit properly.
Types of knitting machine
There are two main types of knitting machines - punchcard and electronic. This refers to how the machine selects needles to create patterns, and how the pattern can be manipulated.
Casting on and off, shaping, and cables are still done by hand, and the carriage is still moved physically by hand. Machines can have plastic or metal beds. Plastic bed machines (with the exception of Passap) are more basic.
Patterning
Plastic machines: Any patterning is done manually, and ribbers are not usually available for them**. Bond/USM machines fall into this category, as does the Brother KX range and the Silver LK range. These are great hobby machines if you just want to try it out without a lot of financial outlay.
Pushbutton machines: Early knitting machines had 8 pushbuttons for patterning, switches to shift and/or reverse the patterning, and a spanner-shaped lever that is pulled every row to put the needles into position for the patterning. These are great little machines for working out simple patterns "on the fly", though remembering to pull the lever every row can get a bit time-consuming.

Punchcard machines use a plastic punched card to read the pattern in, so your pattern repeat is limited to the width of the punchcard (usually 24 stitches, but there are other variants). You can vary the pattern by reversing or turning the card around, but to make any other changes you would need to punch a new card.
Electronic machines use a mylar sheet or a connection to a computer (or built-in patterns) to do their patterning, so you can have up to 200st wide patterns (depending on machine). Also, depending on the machine, the pattern can be scaled, flipped and rotated, or parts of it isolated to create a new pattern.
Motors
You can get motors for some machines. They are usually mounted on a rail above the carriage (for Japanese machines) or at the right hand end (Passap). They are very expensive, and only the Silver ones are still in production, so the others are hard to find and harder to get repaired. Motors just speed up the straight bits of knitting - everything else is still done manually.
Standard gauge
Standard gauge machines (4.5mm) are the most commonly available. They are called "standard", because they work with the most common yarn thickness at the time the machines were first available, which was 4ply. Spinning processes and tastes have changed - don't expect a standard gauge machine to cope well with modern DK yarn, it won't.
Standard machines often come with lace carriages (sometimes sold separately). Lace carriages work by bending two needles together to transfer a stitch. You can still create lace by hand, of course. Brother/Toyota machines work by using a lace carriage in conjunction with the main carriage. Silver/Knitmaster use a second carriage that replaces the main carriage.
Garter carriages are separate electrical devices that sit on the machine bed and can create purl and plain stitches in the same row. They are slow, and they only work on Brother standard gauge machines.
Bulky/chunky gauge machines
Bulky/chunky gauge machines do not have lace carriages. Any lace patterning has to be done by manual manipulation. There is no garter carriage for these machines. Any garter stitch work will be via hand manipulation. You can get garter bars for most gauges - it's a big long comb you transfer the knitting to, so that you can turn it around and rehang it. But it's quite time consuming for more than a few rows.
Automatic patterning:
Knitting machines can do a variety of stitches:
Slip (yarn is slipped on the purl side ONLY automatically)
Tuck (brioche/knit into stitch below) - a new loop is collected on top of the existing stitch
Fair-isle
Knitweave (a contrast yarn is woven into the knitting on the purl side)
Lace.
Newer machines can do punch-lace. It is knitted a bit like fairisle, with two yarns, but one is thick and one is thin, and the thin yarn is knitted alone in certain areas. Newer machines can also do plating (two different coloured yarns together, with some show-through to the other side) and intarsia. There is a way to do intarsia manually on machines that don't have intarsia carriages.
It's also possible to buy a ribber for most metal bed machines. This is a separate bed that fits on the front of the main bed at a right angle to the main bed. A ribber can be used to create various ribs, racked ribs and double-bed jacquard patterns (a kind of reversible fairisle with the floats hidden inside the knitting).
Buyer beware!
Knitting machines can go for ridiculous amounts on Ebay. Some sellers will take no account of depreciation, nor the fact that spares are almost impossible to buy for older machines. So, buyer beware!
Brother stopped production circa 1996, and Toyota/Passap even earlier, so bear this in mind, especially with the electronics - once they die, you need an electrical engineer to diagnose and repair them, and electrical spares can be hard to come by.
The punchcard machines seem to last forever, though - there's not much to go wrong with them. Your main problem will be replacing bent needles and the spongebar (though it is possible to repair your spongebar with draught excluder if you have to).
Silver (also called Silver Reed/Singer/Knitmaster/Empisal) are still in production, so getting spares isn't so bad. Some of the older Knitmaster machines couldn't take a lace carriage (the needles were too strong) so check before you buy.
Passap machines (also no longer in production) use a different patterning system. Every needle has a corresponding pusher, and the position of the pusher in combination with a setting on the lock/carriage determines what is done to the stitch on that needle. Passap machines do fantastic double-bed work, but Japanese machines do better single-bed work. Passap are a bit harder to learn because the beds are pretty much fixed so it's harder to see the work and see if things have gone wrong. With a Japanese machine you can add the ribber later as your confidence grows.
What to look for when buying second hand
Buying a knitting machine is a bit like buying a computer. Decide how much you can afford and buy the best machine you can get for that money. If you think you're likely to want a ribber or other accessories in the future, try and get a machine that can be added to. If you do decide to buy a machine, try and arrange to pick it up, if at all possible. Machines are heavy and fragile and must only be posted if wrapped very well. Also you can get a good look at the machine before you part with your cash. Rusty needles and a dirty machine can be replaced or rectified - a bent needlebed, broken plastic and serious rust cannot. Get the seller to demonstrate how the machine is working, if possible.
Problem solving
If you have acquired a machine and it seems to jam a lot, find the section in the manual where it talks about changing a needle. Most machines use some kind of spring or sponge/sponge and metal strip to hold the needles down, and this degrades over time, regardless of usage. Your needles should be pressed down against the bed - once the sponge bar goes flat they will rise up and jam in the carriage. These bars are very cheap to replace, and a lot cheaper than trying to replace damaged needles and damaged carriages. If the sponge bar (also called the needle retainer bar) is not at fault, check that your yarn is flowing smoothly.
Coned yarn is best, but other yarn can be used if it's rewound into a centre-pull ball. Running yarn from the centre of a ball of hand knitting yarn will produce a garment that is so stiff, it can stand up on its own. Loops at the edges mean the overhead tension mast is too loose. Pulling up at the edges means it is too tight.
Finally, remember that all things have a learning curve, and expect to be frustrated at the beginning. The machine will jam and/or drop stitches until you get the hang of it. If you persevere, and take it slowly to begin with, it becomes a very rewarding hobby. There are lots of message boards on Yahoo and quite a few on Ravelry that you can turn to, and there are also guilds, clubs and shows where you can meet like-minded folks.
Notes
*Brother made a convertible plastic bed machine, which has both 4.5mm and 9mm beds.
** The original Bond also had a ribber, but it wasn't very successful.
You can find out more about Jane and machine knitting from her website and blog